Get ready for the experience of a lifetime in Moab with a choice of 2 adventures, both packed with off-road driving.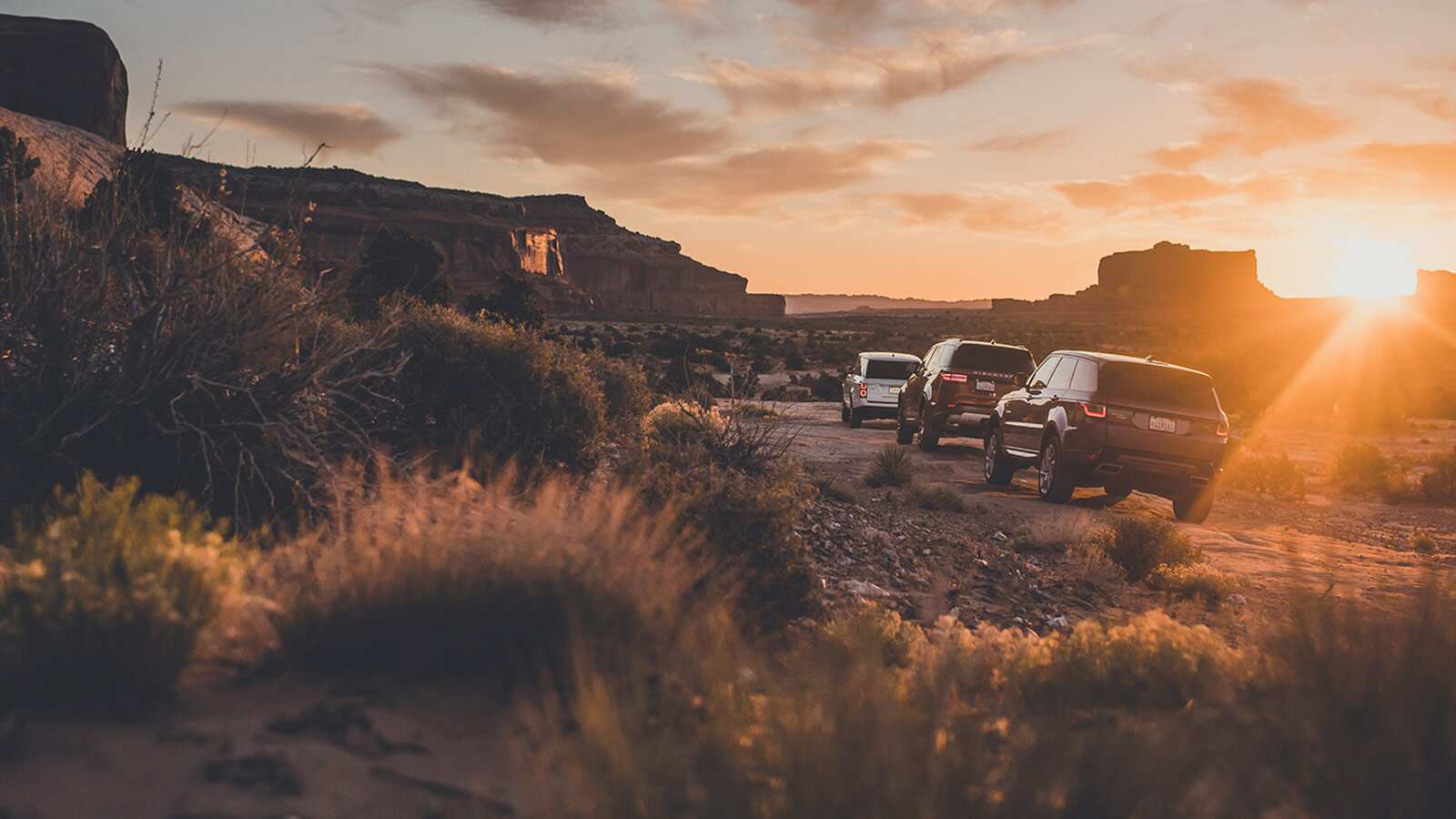 Nestled in the Southwest, the town of Moab, Utah, is surrounded by thousands of square miles of the Canyonlands and Arches National Park. Its distinct red-rock landscapes, carved out by over 300 million years of storms, winds and violent floods, attract visitors and off-road enthusiasts from all over the world.
CHOOSE YOUR MOAB ADVENTURE
Closed course. Drivers operating vehicles under supervision. Do not attempt.
CHECK OUT OUR GUESTBOOK REVIEWS
See what our latest intrepid guests thought of their Moab adventure with Land Rover.

"A life-changing experience! This was amazing."
CONTACT US
For more information, please contact us the JLR Concierge:
Telephone     1-303-515-4839 (9 a.m. – 5 p.m. MT, Mon. – Fri.; local charges may apply)
Email              Contact Us
MOAB FREQUENTLY ASKED QUESTIONS
GENERAL
Who operates the trips?

The Land Rover Experience Adventure Travel Moab program is operated by Alem International Inc., who are licensed and authorized by Jaguar Land Rover. When you make a booking, you will enter into a contract with Alem International Inc.

Who does the driving?

You do! There will be a team of Land Rover Experience instructors on hand to provide expert guidance and instruction, but you are behind the wheel.

What is the minimum age for participation?

What language is spoken by the Land Rover Experience instructors at Moab?

The program is delivered in English.
PRICE
Do I need to purchase extra insurance to be able to drive?

Additional vehicle insurance is not required but guests are advised to purchase a comprehensive travel insurance policy.

What is included in the price of the Land Rover Adventure Travel Moab?

General inclusions are as follows: all Land Rover driving activities, hotel accommodations, breakfast, lunch and dinner, drinks with meals, and airport transfers to/from the Grand Junction Airport in Colorado. Please note that due to the level of driving involved, alcohol is only included with your dinner and will be limited.

What isn't included in the price of the driving experience?

Flights; meals and drinks that are not specified in the program; visa fees (if applicable); travel insurances; and any pre- or post-trip arrangements that deviate from the itinerary.
DRIVING
What type of driver's license will I need?

JLR policy dictates all drivers must hold a full, current and valid driving license to be produced on the day of the Experience.

What vehicles will I be driving?

Land Rover Discovery, Range Rover and Range Rover Sport. Occasionally we may need to change or substitute the vehicle specified, due to circumstances beyond our control, and we reserve the right to do so.

Are the vehicles manual or automatic?

All vehicles have an automatic transmission.

How many people are in each vehicle?

There will be two (2) guests sharing each vehicle.

What is the maximum group size?

To provide a more exclusive and engaging experience, the maximum group size is 16 guests (two per vehicle).

If I am traveling by myself, will I have my own vehicle?

No. As a single traveler you will be paired in your vehicle with another guest. You will have your own hotel room throughout.

Do I need to have a certain level of physical fitness to take part?

You should avoid participating in the driving Experience if you have chronic back problems (or similar conditions); mental conditions that might impair your ability to drive; poor eyesight that doesn't meet the standards for driving; are pregnant; or have heart problems. If you are on medication, please be sure to have enough to last the duration of your trip. Also, we will have medical staff along with us. Please alert us of any medical conditions you may have a concern over.
TRAVELLING
What is the weather like during Adventure Travel Moab?

October and November will have warm days as high as 70–80˚F, and cool evenings around 40˚F and under at night. Moab generally has over 300 days of sunshine each year.

Are children allowed to join the Land Rover Adventure Travel Experience?

No. The Experience is not safe for children.

Do I need special clothing?

Yes. Please bring sturdy and comfortable walking boots, socks, sunglasses, a hat, a windbreaker, a fleece and a T-shirt.

What is the dress code for the evenings?

What other activities are available?

The ranch offers activities such as horseback riding, wine tasting, river rafting, sports massage and more.

Do I require a visa?

International travelers should contact their local consulate to check on their specific requirements. Should you require an invitation letter to receive your visa, please get in touch and we will provide you with this.

Which currency is used in the U.S.?

The local currency is the U.S. dollar.

Am I allowed to bring a camera or video camera?

Yes, of course. You may also bring specialist equipment such as GoPros. However, our permits do not allow drones.
The images shown here are for illustration purposes only and should there be any ambiguity regarding the program, the written itinerary will be taken as the more accurate interpretation of the trip. We reserve the right to alter the travel route and/or replace the tour operator with similar alternatives.