LAND ROVER INTRODUCES NEW EQUESTRIAN-THEMED VEHICLE PACKAGE ON FOUR MODELS TO KICKOFF KENTUCKY THREE-DAY COMPETITION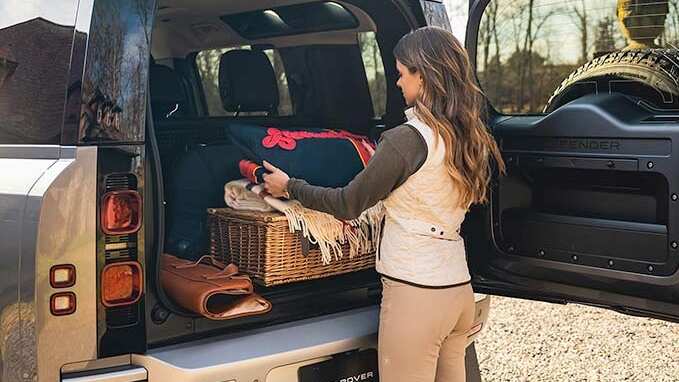 The US EQUESTRIAN FEDERATION PACK is an exclusive equestrian lifestyle and vehicle accessory package available on four New Land Rover models: Defender, Discovery, Range Rover, Range Rover Sport
Curated for equestrian event attendees and horse owners, the Pack includes US Equestrian Federation (USEF) branded Wool Throw Blanket, Garment Bag, Canvas Tote Bag, Yeti® Cooler, Custom Horse Cooler and Picnic Basket
With proceeds from the sales of the USEF Pack, Land Rover will donate $250 per pack sold to the USEF Community Outreach Opportunity Fund
The new USEF Pack will debut on vehicles on display April 28, 2022 to May 1, 2022 at the Land Rover Kentucky Three-Day Event presented by MARS Equestrian, featuring the highest level of competition in equestrian sport.
For more information on Land Rover USEF partnership products, please visit the following link: click here
(MAHWAH, N.J.) – April 26, 2022 – As a continuation of Land Rover's partnership with the U.S. Equestrian Federation (USEF), Land Rover announced today the launch of the US Equestrian Federation Pack, a curated suite of equestrian lifestyle and vehicle accessories. Available on select New Land Rover models, including Defender, Discovery, Range Rover and Range Rover Sport. The USEF Pack will debut at the Land Rover Kentucky Three-Day Event presented by MARS Equestrian, running from April 28 to May 1. This annual event features the highest level of competition in equestrian sports.
The US Equestrian Federation Pack which is available for a price of $5,000, consists of special USEF branded lifestyle items including a Canvas Tote Bag, Custom Horse Cooler, Garment Bag, Picnic Basket YETI® cooler, and Wool Blanket. While the vehicle accessories features include Mudflaps, Rubber Mats/ Loadspace Rubber Mats and Portable Rinse System.
Land Rover will contribute $250 per pack sold to the USEF Community Outreach Opportunity Fund, which supports recognized USEF Community Outreach Organizations that have the mission of increasing access to horses, horse sports, and equine-based learning opportunities among under-served and under-represented communities.
"Land Rover's USEF Pack of equestrian-themed accessories is perfect for the Land Rover vehicle owners whose vehicles are an integral part of the hobby they are so passionate about," said Joe Eberhardt, President & CEO, Jaguar Land Rover North America. "And we are proud to further support the U.S. Equestrian Federation's efforts to achieve broader representation in equestrian sports."
"Land Rover continues to be a dedicated sponsor of US Equestrian and a committed supporter of equestrian sport here in the U.S. and abroad," said Vicki Lowell, Chief Marketing and Content Officer. "This co-branded activation is a testament to the expanding relationship between Land Rover and US Equestrian, further elevating the scope and visibility of our longstanding and valued partnership."
For the fourth year in a row, Land Rover will return as the title sponsor of the Land Rover Kentucky Three-Day Event presented by MARS EQUESTRIAN from April 28- May 1, taking place at the Kentucky Horse Park in Lexington, KY. The Land Rover Kentucky Three-Day Event attracts the top international and national horse-and-rider combinations for a weekend of compelling competition. Featuring the USEF National Championship, this event is the highlight of the eventing season in North America, and remains one of the most prestigious Three-Day Eventing competitions in the world.
Beyond the competition, Land Rover returns with a full program of experiential customer activations for visitors of all ages, including:
– The Land Rover Ultimate Stable where a Defender with a new US Equestrian Federation Pack will be featured alongside the latest in eventing apparel and equipment.
– 'Junior Drive Experience' will offer children aged four to ten -years-old the chance to earn their "Land Rover License" by navigating a specially designed course in electric powered replicas of iconic Land Rover models.
– Saturday Tailgate Experience where invited Land Rover vehicle owners enjoy the action on the Cross Country Course.
The triumphant rider of the 2022 Land Rover Kentucky Three-Day Event presented by MARS EQUESTRIAN will not only claim the major share of the $375,000 purse but will also be presented with the keys to a 12-month lease of a 2023 Land Rover Defender.
Fans will be able to follow all competition free on the USEF Network live stream throughout the weekend at https://www.usef.org/LRK3DE or relive all the action and relive the excitement of the Land Rover Kentucky Three-Day Event by tuning into the NBC broadcast that will air on Sunday, May 14th, between 1- 2 pm ET. Also available on Peacock streaming, with repeat airings between May 14 - June 14.
Land Rover has been a U.S. Equestrian partner and dedicated sponsor of the U.S. Eventing Team for more than a decade. Last year, Land Rover confirmed its continued support of U.S. Equestrian with a multi-year agreement as title sponsor of the U.S. Eventing Team, the U.S. Eventing Grant Program, and the Land Rover Kentucky Three-Day Event presented by MARS EquestrianTM.