LAND ROVER ANNOUNCES WINNING RETAILER TEAM OF TREK 2021 U.S. ADVENTURE COMPETITION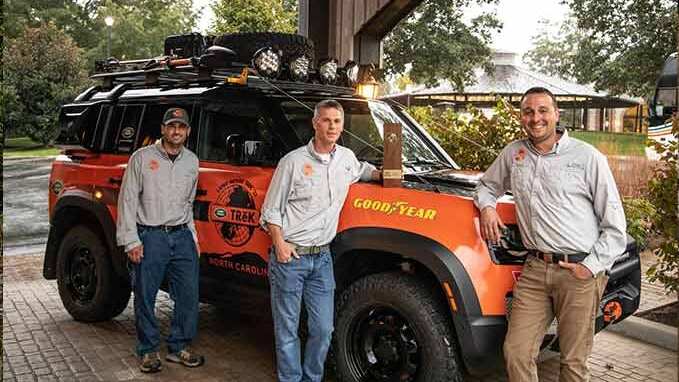 • Land Rover Rochester crowned winner of the off-road skills competition for the brand's U.S. retailers
• Land Rover Riverside and Land Rover Buckhead take second and third place respectively
• 70 Land Rover retailers from across the U.S. competed at the Biltmore Estate in Asheville, North Carolina throughout the month of September
• Each three-person team piloted identical, specially outfitted 2022 Land Rover Defender 110 SUVs during the adventure competition
(MAHWAH, N.J.) – October 6, 2021 – Land Rover today announced Land Rover Rochester from Rochester, N.Y. as the winning team of TReK 2021, an adventure off-road competition for the brand's U.S. retailers at the Biltmore Estate in Asheville, N.C. Following the winning team in a close battle for second and third place are Land Rover Riverside of Riverside, Calif. and Land Rover Buckhead of Atlanta, Ga. respectively.
Inspired by the original Camel Trophy competition, Land Rover TReK 2021 is a multi-day event, comprised of qualifying trials and finals, for Land Rover retailer staff designed to educate and test personnel with a variety of four-wheel drive adventure tasks. The competition combines skill challenges in off-road driving, navigation and team collaboration to put retailer teams from across the U.S. to the test.
During this year's competition, 70 three-person teams – each representing Land Rover retailers from across the U.S. – competed in head-to-head team and group challenges in 70 identically customized 2022 Land Rover Defender 110 SUVs. Of the 70 teams at the qualifying trials, seven went on to vie for the overall win in the finals.
The qualifying retail teams that competed in the Land Rover TReK 2021 finals were:
• Land Rover Bedford (Bedford, New Hampshire)
• Land Rover Buckhead (Atlanta, Georgia)
• Land Rover Nashville (Brentwood, Tennessee)
• Land Rover North Atlanta (Alpharetta, Georgia)
• Land Rover Palm Beach (West Palm Beach, Florida)
• Land Rover Riverside (Riverside, California)
• Land Rover Rochester (Rochester, New York)
"The participation from our retailer network at this year's TReK competition has been outstanding," said Joe Eberhardt, President & CEO, Jaguar Land Rover North America. "Competition and comradery were at the highest level and each team truly exemplified the brand's true passion and spirit of adventure. Congratulations to the overall winners."
For more information about Land Rover TReK or the new Land Rover Defender, visit LandRoverUSA.com.