NEW RANGE ROVER: ORDERS OPEN FOR FLAGSHIP SV MODEL AND EXTENDED RANGE PLUG-IN HYBRID WITH 51 MILES OF EV RANGE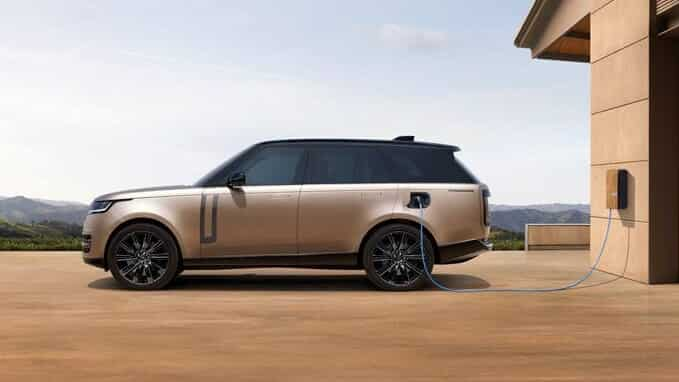 2023 Range Rover Extended-Range Plug-in Hybrid and SV models now available for order. Plug-in hybrid performance provides a manufacturer estimated EV range of 51 miles1, pending EPA certification
Orders open for the exclusive New Range Rover SV, the ultimate expression of New Range Rover modern luxury with curated design themes and exquisite detailing
Exclusive design details, exquisite materials and curated design themes ensure New Range Rover SV offers greater scope for personalization than ever before
Unprecedented demand has seen New Range Rover configured more than 2 million times on the Land Rover website since its launch in October 2021
New Range Rover defines contemporary luxury, combining breath-taking modernity and aesthetic grace with technological sophistication and seamless connectivity
Luxurious four, five and seven-seat interiors are available across Standard and Long Wheelbase body designs, offering more space, luxury and flexibility than ever before
2023 Range Rover P440e is available from $104,9002 in the U.S.; Range Rover SV starting prices range from $186,8502 in the U.S.
To find out more visit: landroverusa.com
(MAHWAH, N.J.) – January 27, 2022 – The full breadth of the luxurious New Range Rover family is now available to order for the first time. Land Rover has confirmed prices for the advanced Extended-Range Plug-in Hybrid model and the exclusive Range Rover SV, while revealing performance figures for the plug-in hybrid electric powertrain.
The P440e Extended-Range Plug-in Hybrid Electric Vehicle (PHEV) offers exceptional efficiency, with a manufacturer estimated EV range of 51 miles1, pending EPA certification, offering customers even greater breadth of capability.
Since its launch at the Royal Opera House, in London, in front of leaders from the world of art, culture, business and sport, Land Rover has experienced unprecedented demand for New Range Rover. More than 2 million individual configurations have already been carried out on the Land Rover website, highlighting the global appeal of the original luxury SUV.
Nick Collins, Executive Director Vehicle Programmes, Jaguar Land Rover, said, "New Range Rover is the most desirable, elegant and capable luxury SUV in the world. Our efficient new Extended-Range Plug-in Hybrid Electric Vehicle powertrain elevate the driving experience with a fine balance of performance, refinement and efficiency, enabling owners to complete whisper quiet zero emissions journeys."
The New Range Rover effortlessly combines breath-taking modernity and aesthetic grace with technological sophistication and seamless connectivity – with space for up to seven adults for the first time.
Extended Range Plug-in Hybrid
The capability of the Extended-Range Plug-in Hybrid powertrain is signified in its performance and efficiency. Certified data via EPA has not been completed yet for electric driving, however, Land Rover expects an all-electric range of 51 miles1, pending EPA certification.
New Range Rover is also one of the few PHEVs to offer 50kW DC rapid charging capability and can charge up to 80 percent in under an hour, making it one of the fastest charging plug-in hybrids4.
Alongside the P440e Extended-Range Plug-in Hybrid model, which blends near-silent EV-only driving with effortless performance, New Range Rover is also available with a choice of a mild-hybrid six-cylinder powertrain, plus an all-new Twin Turbo V8. Customers also benefit from the choice of four-, five- and seven-seat interiors across Standard (LWB) and Long Wheelbase (LWB) body designs. A pure-electric Range Rover – the first all-electric Land Rover vehicle – will join the line-up in 2024.
New Range Rover is available in SE, Autobiography and SV models, with an exclusive First Edition available during the first year of production. Both SWB and LWB body designs are available with five seats, while the New Range Rover LWB model offers enhanced comfort for rear-seat occupants.
New Range Rover SV
The Range Rover SV sits at the pinnacle of the Range Rover family and represents an exquisite interpretation of Range Rover luxury and personalization, with exclusive materials, curated design themes and greater scope for personalization than ever from the experts at Special Vehicle Operations. Order books for the 2023 Range Rover SV are now open, priced from $186,8502 in the U.S.
Mark Turner, Commercial Director, Special Vehicle Operations said, "The introduction of the New Range Rover SV is a defining moment for Special Vehicle Operations, inviting our customers to create their very own interpretation of modern luxury and savour our shared passions for exquisite design, craftsmanship and quality."
Previously envisioned through the SVAutobiography family, the SV flagship model builds on the luxury SUV's breath-taking modernity, peerless refinement and incredible capability with SV-specific design details and material choices throughout. It's estimated New Range Rover SV can be configured in more than 1.6 million combinations.
Unique front bumper and five-bar grille designs identify the new flagship model, along with a laser-etched SV roundel on the side gills, new white ceramic SV roundel on the tailgate and optional 23-inch directional three-finish wheels. Exclusive materials include lustrous plated metals, smooth ceramics, sustainably sourced woods and soft near-aniline leather, as well as sustainable non-leather UltrafabricsTM.
Pure luxury SV Serenity and stealthy SV Intrepid design themes are key to the personalization journey on New Range Rover SV. These themes each give Range Rover SV a distinct personality and can be specified independently for the exterior or interior, in conjunction with the standard Range Rover SV exterior or interior, or applied as one theme to the whole vehicle. Contrasting two-tone interior color options set the front and rear of the cabins apart.
New Range Rover SV is available in both Standard and Long Wheelbase body designs, including a five-seat LWB configuration for the first time. The standard engine for the U.S. is the powerful and refined 523 hp V8 Twin Turbo. The new V8 and produces 37 lb-ft more torque than the previous 5.0-liter Supercharged V8, propelling New Range Rover SV to an elevated top speed of 162mph3.
LWB customers also have the option of specifying the four-seat SV Signature Suite, which represents the pinnacle SV interior. The luxurious design is centered around an elegant front-to-rear console that runs the full length of the cabin and accommodates an electrically powered Club Table, electrically deployable cupholders and an integrated refrigerator with SV-etched Dartington crystal glassware.
Additionally, Range Rover SV models are available with 13.1-inch Rear Seat Entertainment screens, which are the largest ever fitted to a Range Rover and the optimum size for comfort. High-fidelity headphones are also designed specifically for Range Rover SV, with enhanced smoothness and performance in higher frequency ranges.

Electrified Future
New Range Rover will become the first in a series of all-electric Land Rover vehicles when the 100 percent electric model debuts in 2024, with every Land Rover vehicle set to be available with pure-electric propulsion by the end of the decade - helping Jaguar Land Rover achieve net zero carbon across its products, operations and supply chain by 2039 as part of its Reimagine strategy.
The 2023 Range Rover P440e Extended-Range Plug-in Hybrid is available to order now, priced from $104,9002 in the U.S. The New Range Rover SV is available to order in SWB, priced from $186,8502, and LWB models, priced from $211,2002. Configure yours at landroverusa.com.