LINDSEY VONN TESTS HER ADVENTURE SKILLS TO KICK OFF THE LAND ROVER TReK 2021 OFF-ROAD COMPETITION FOR U.S. RETAILERS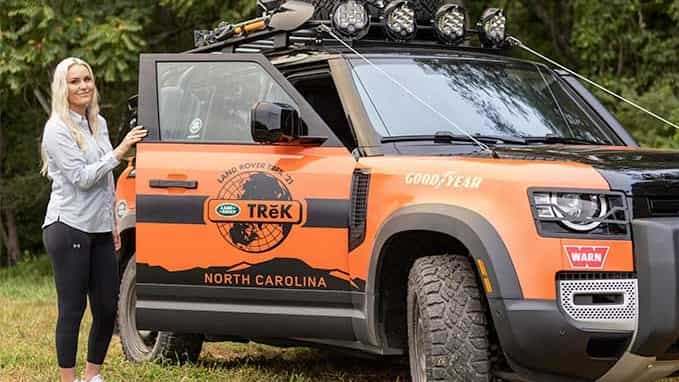 • World renowned athlete and Jaguar Land Rover ambassador, Lindsey Vonn kicked off the adventure competition at the famed Biltmore Estate in Asheville, N.C.
• 210 Land Rover retailer employees from around the U.S. set to compete in the off-road skills challenge
• Competitors to drive in specially outfitted 2022 Land Rover Defender 110 SUVs
(MAHWAH, N.J.) – September 21, 2021 – Land Rover kicked off its TReK 2021 adventure off-road competition for U.S. retailers at the Biltmore Estate in Asheville, N.C., with the help of champion skier and Jaguar Land Rover ambassador, Lindsey Vonn.
Inspired by the original Camel Trophy competition, Land Rover TReK 2021 is a multi-day event, comprised of qualifying trials and finals, for Land Rover retailer staff designed to educate and test personnel with a variety of four-wheel drive adventure tasks. The competition combines skill challenges in off-road driving, navigation and team collaboration to put retailer teams from across the U.S. to the test.
Decorated athlete Lindsey Vonn was part of a team that competed in advance of the retail rotations. Vonn used her athletic prowess and outdoor adventure skills to take on some of the event's toughest challenges.
This year's competition will pit 70 three-person teams – each representing the various sales regions for Land Rover across the U.S. – against each other in head-to-head team and group challenges. The teams will compete in a series of 70 identically customized 2022 Land Rover Defender SUVs for the preliminary qualifying trials taking place at the Land Rover Experience center at the Biltmore Estate in Asheville, North Carolina this week.
The winning team from each wave of competition will return to Asheville in October for the TReK 2021 Finals, where the overall winner of the competition will be crowned.

"Competing in The Land Rover TReK Competition has taken off-roading to a whole new level for me," said Lindsey Vonn. "The gruelling adventure competition really put my physical and mental skills to the test. It was so much fun pushing my limits and learning new techniques in the Land Rover Defender."

"We're thrilled to be able to bring the TReK competition back this year for all of our Land Rover retail staff across the U.S. and to give them the opportunity to not only learn, but to experience firsthand what the Land Rover brand represents and utilize the New Defender to its fullest capabilities," said Joe Eberhardt, President & CEO, Jaguar Land Rover North America. "We're honored to have elite athlete and Jaguar Land Rover ambassador Lindsey Vonn here to kick off the event and bring her competitive spirit to the group."
The original TReK competition was established in 1996 in the image of the iconic Camel Trophy as a U.S. specific challenge for the retailer network to bolster their off-road expertise in one day of immersive off-roading. In 2001, following five years of success in North America, TReK expanded its influence when the first global TReK competition was held in South Africa.
For more information about Land Rover TReK or the new Land Rover Defender, visit LandRoverUSA.com.