LAND ROVER INAUGURAL 'DEFENDER ABOVE & BEYOND SERVICE AWARDS' WINNERS ANNOUNCED AT LIVE VIRTUAL EVENT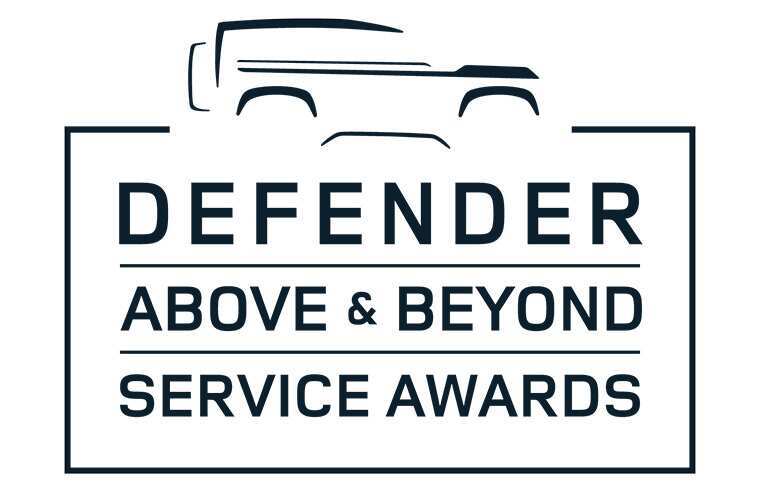 • Winning organizations recognized for extraordinary work in seven categories: Search and Rescue, Coastal and Marine Conservation, Animal Welfare, First Responders, Environmental, Urban Improvement, and Fire Safety and Response
• Reflecting the seven decades of Land Rover, the winning U.S. non-profits will each receive a custom Defender SUV to empower them in helping those around them
• Watch the virtual awards ceremony on the Land Rover USA YouTube channel
• For more information, visit LandRoverUSA.com
(MAHWAH, N.J.) – September 29, 2021 – Land Rover announced the seven winners of the first-ever 'Defender Above & Beyond Service Awards' during a virtual live stream yesterday.
The event was hosted by adventurer and Land Rover Defender enthusiast Christian Murphy and also featured Joe Eberhardt, President & CEO, Jaguar Land Rover North America, as well as other notable brand partners, including pioneering big wave rider and innovator Laird Hamilton, as well as U.S. Olympic and world champion ice hockey player and manager of player development for the New Jersey Devils, Meghan Duggan.
The winners across the seven categories are as follows:
1. Search and Rescue: Wolfe County Search and Rescue (Campton, KY)
Recognized for its work in wilderness and technical rope rescue, Wolfe County Search and Rescue is funded entirely through grants and donations. The all-volunteer team is the busiest organization of its kind in the state and specializes in responding to lost person incidents and technical, high-angle roped rescue in the rugged terrain found throughout Eastern Kentucky.
2. Coastal and Marine Conservation: New York Marine Center (Riverhead, NY)
Recognized for its work to preserve and protect the marine environment through conservation efforts including rescue, rehabilitation, education, and research.
3. Animal Welfare: Humane Society of Independence County (Batesville, AR)
Recognized for its work rescuing and providing a safe shelter for abandoned, abused, homeless, and unwanted dogs and cats within the county and securing loving, stable homes for them.
4. First Responders:  Montgomery Emergency Medical Services (Belle Mead, NJ)
Recognized for its work providing emergency medical care to the 23,000 residents of Montgomery Township, NJ and standbys at fire scenes, sports games, and other community events.
5. Environmental:  One Tree Planted (Shelburne, VT)
Recognized for its work protecting the health of local lakes, rivers, and streams for everyone who depends on and enjoys them.
6. Urban Improvement:  Hamptons Community Outreach (New York, NY)
Recognized for its work to bridge the gap between the affluent and impoverished communities in its local area.
7. Fire Safety and Response:  Navarre Beach Fire Rescue Inc. (Navarre, FL)
Recognized for its work providing emergency response to all emergencies on Navarre Beach and automatic aid to all departments in Santa Rosa County along with the military.
"Since launching our first ever Defender Above and Beyond Service Awards earlier this year, we've had over 300 submissions and over 165 thousand votes and we're thrilled to finally have crowned our seven winners," said Joe Eberhardt, President & CEO, Jaguar Land Rover North America. "All of the finalists across our seven categories are true examples of how sacrifice and drive towards a greater good can make enormous impacts in communities around them and all of us at Land Rover, from our employees to our retailers, are inspired and humbled by them."
Inspired by the endless acts of service across the U.S. from extraordinary non-profits, Land Rover launched the 'Defender Above & Beyond Service Awards' to celebrate U.S.-based charitable organizations that are making a positive impact in their local community. To honor the 70-year history of the brand and the legacy of the Land Rover Defender supporting humanitarian agencies across the world, the brand awarded custom outfitted Defender SUVs to seven organizations to help further their charitable efforts. In order to be considered for the awards, organizations had to be U.S.-based 501(c)(3)1 non-profits whose efforts fall within the seven categories outlined in the program.
The virtual awards ceremony is available to view on the Land Rover USA YouTube channel. Visit LandRoverUSA.com for more information about the 'Defender Above & Beyond Service Awards2' and to watch all of the finalist submission videos. To learn more about the 2022 Land Rover Defender, please visit LandRoverUSA.com.
(1) Organizations must be a 501(c)(3) non-profit organization in one of the seven (7) Categories specified, be approved by the Internal Revenue Service as a tax-exempt, charitable organization as of March 9, 2021, and maintain its tax-exempt status (i.e., good standing) until the end of the Contest Period. The 501(c)(3) must be a public charity or a private operating foundation, but not a private foundation
(2) Information and rules on the 'Defender Above & Beyond Service Awards,' can be found here