LAND ROVER ANNOUNCES DEFENDER 30TH ANNIVERSARY EDITION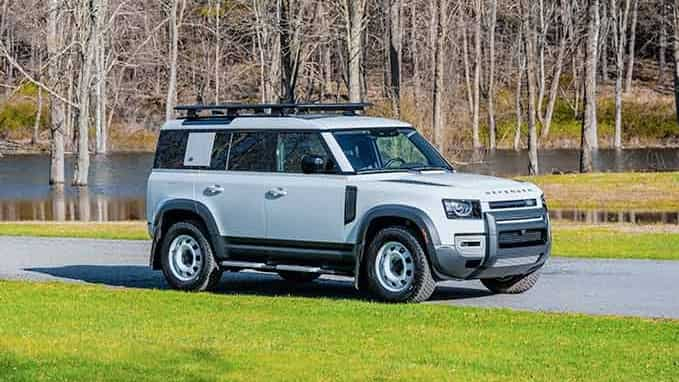 Land Rover North America will produce 500 adventure-ready Defender 30th Anniversary Edition vehicles, which pay tribute to the iconic 1993 Defender 110 First Edition
The Land Rover Defender 30th Anniversary Edition is based on the MY23 Defender P300 S, and features curated accessories, along with Fuji White Paint, with matching Gloss White Steel Wheels which recreate the look of the 1993 Defender First Edition
A Heritage Inspired Exterior Badge will be placed on the tailgate on each of the 500 Defender 30th Anniversary Editions produced
(MAHWAH, N.J.) – May 2, 2022 – Commemorating the 30th model year anniversary of the North American introduction of the Defender, Land Rover announces a limited production Defender 30th Anniversary Edition. This Edition pays tribute to the iconic 1993 Land Rover Defender 110's heritage of rugged style and capability. Limited to just 500 vehicles, this adventure ready model is available at select Land Rover retailers.
"The Defender 30th Anniversary Edition is a modern classic which pays homage to the heritage of 1993 Defender 110 First Edition, commented Joe Eberhardt, President and CEO of Land Rover North America. "This Edition celebrates the Defender model legacy here in North America, while offering technology and features that the adventurers of today expect in a new vehicle."
The Defender 30th Anniversary Edition vehicle follows the style and adventure ready specifications of the original, while adding leading edge technology. The 30th Edition will be based on Defender 110 P300 S model in Fuji White. Featuring Ebony grained leather seat facings, Cross Car Beam in White Powdercoat Brushed Finish and 18" Gloss White Steel Wheels will complete the visual homage. A heritage inspired exterior badge will be placed on the rear tailgate of each of the 500 produced Editions.
Respecting the extraordinary capability Land Rover is known for, the 30th Anniversary Edition is equipped with all-terrain focused accessories similar to those found on the original. Such features include an Expedition Roof Rack, Front and Rear Classic Mud Flaps, Rubber Mats and Fixed Side Steps, Deployable Ladder, Wheel Arch Extensions, and an A Frame. Modern conveniences also include a Cold Climate Pack, Tow Pack, Black Exterior Pack and Off-Road Pack.
Adventure technology has come a long way since 1993 and advanced features abound in the 30th Anniversary. Premium LED headlights, Air Suspension, Front Fog lamps. Convenience features such as the Activity Key, worn like a watch, allows the owner to keep the keys of the vehicle safe and dry, while enabling them to take part in water related adventures. The vehicle's interior has a Three-Zone Climate Control System and an Air Quality Sensor, along with Cabin Air Ionization for optimal comfort along your journey.
The legacy of the 1993 Defender 110: Introduced in late 1992, the Model Year 1993 Defender 110 was the first Defender vehicle sold in North America. Hand-built at the historic Solihull factory in the United Kingdom, the First Edition Defender 110 is highly sought by collectors and enthusiasts with just over 500 units produced. Fully outfitted for rugged terrain, the First Edition featured a safari roll-over protection system2, ladder and roof rack, and a heated windshield for extreme weather conditions. The 1993 Defender 110 remains an embodiment of capability and iconic design Land Rover vehicle owners and fans have appreciated since 1948.